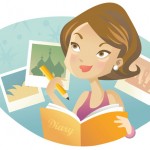 Are you look­ing for an edi­to­r­ial rock star to join your team? I'm cur­rently seek­ing full-time or project-based senior-level edi­to­r­ial or project man­age­ment oppor­tu­ni­ties that are remote/location inde­pen­dent. I'm a self-motivated, detail-oriented edi­tor with proven lead­er­ship skills. I'm equally at home col­lab­o­rat­ing with in-house staff and remote teams as well as free­lance edi­tors, design­ers, and third-party vendors.
As a senior edi­tor at Ster­ling Pub­lish­ing, I acquire and edit a diverse list of books and kits (book plus com­po­nents) for pro­pri­etary place­ment in Barnes & Noble book­stores. I man­age sched­ules for the entire team, super­vi­sor in-house project edi­tors and free­lance edi­tors, and liai­son between project part­ners, includ­ing authors, edi­tors, design­ers, pro­duc­tion man­agers, and sales associates.
On a free­lance basis I cur­rently curate and write con­tent for a vari­ety of web­sites and blogs, write email auto-responder mes­sage sequences for small busi­nesses, man­age cor­po­rate newslet­ters, write prod­uct descrip­tions for cat­a­logs, and much more.
My col­leagues will tell you that I'm an expert when it comes to project man­age­ment with acu­men in sched­ul­ing and traf­fick­ing pub­li­ca­tions through production.
My clients con­sis­tently praise my abil­ity to effec­tively work with peo­ple, man­age title devel­op­ment, and solve issues before they become problems.
My proud­est accom­plish­ment, though, is the fact that peo­ple want to work with me on a daily basis. I'm a calm­ing force on any team and have the abil­ity to moti­vate and men­tor oth­ers… prob­a­bly because I roll up my sleeves to do what­ever it takes to make the pub­li­ca­tion sig­nif­i­cant to its readers.
I'm avail­able for free­lance or full-time edi­to­r­ial work, espe­cially turnkey project man­age­ment, writ­ing, blog­ging, and social media man­age­ment. I've writ­ten hun­dreds of fea­ture arti­cles, Q&As, and front-of-book pieces. I'm also an excel­lent devel­op­men­tal edi­tor and proof­reader. In addi­tion, I'm knowl­edge­able across a range of web site con­tent man­age­ment sys­tems, like Word­Press and Textpat­tern and can write with SEO in mind.
Spe­cial­ties
super­vi­sor and team leader
con­tent mar­ket­ing writer
man­ag­ing editor
project man­age­ment expert
acqui­si­tions edi­tor (adult non-fiction, books and kits)
devel­op­men­tal edi­tor (adult non-fiction)
edi­to­r­ial strategist
social media manager
metic­u­lous proofreader
writer with exper­tise in travel, per­sonal finance, senior care issues, music pro­duc­tion, and col­lege search and selection
guide­book author / updater
con­tent man­age­ment sys­tem (

CMS

) expert

SEO

writ­ing
I'm an info­pre­neur with the sole goal of con­sis­tently exceed­ing my client's expec­ta­tions when it comes to project man­age­ment, writ­ing, con­tent mar­ket­ing, social media/community man­age­ment, edit­ing, and the cre­ation of infor­ma­tion products.