Download Andrea M. Rotondo's resume.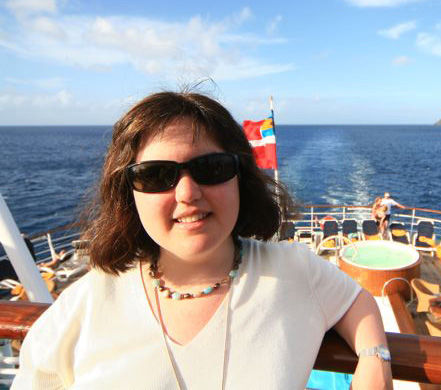 Andrea M. Rotondo is a writer / editor specializing in luxury travel with expertise in the areas of cruise vacations, African safari lodges, and exotic getaways. She's also an expert at leveraging frequent flyer miles and hotel loyalty points.
Andrea has traveled the world; she's crossed the International Date Line (traveling west across the Bering Sea from Alaska to Kamchatka, Russia) and the Equator (during a trip to Borneo) while aboard cruise ships.
Her most compelling travel memories include:
• holding a four-month-old orangutan at the Orangutan Care Center in Kalimantan, Borneo
• photographing a pack of elusive African wild dogs in South Africa
• experiencing the phenomenon of bioluminescence at Mosquito Bay on the island of Vieques (Puerto Rico)
• trailing a pod of orcas—adults and calves—from a skiff in Frederick Sound, part of Alaska's famed Inside Passage
• lazing on Kauai's Poipu Beach with two very rare Hawaiian Monk seals
BusinessWeek, USA Today, FareCompare, Independent Traveler, Cruise Thomas Cook magazine, the BBC, CBS Radio, and other media outlets have called upon Andrea to provide expert commentary regarding the travel industry. Gene Sloan, Cruise Log editor at USA Today has referred to Andrea as one of "the titans of cruise writing."
She's written for Fodor's, Conde Nast Traveler, Cruise Critic, Cruise Travel, Cruise International, Family Vacation Critic, Modern Bride, Destination Weddings & Honeymoons, Travel Agent, American Baby, and many other magazines and websites.
Andrea is also an accomplished editor and author. She acquired and edited rock star Tom Petty's first official book, Conversations with Tom Petty. As a senior editor for Sterling Publishing, she develops books and kits for sale at Barnes & Noble stores. Her latest book, Tom Petty: Rock 'n' Roll Guardian, won a silver medal in the Performing Arts category in the 2014 Independent Publisher Book Awards.
She's authored several books, including Getting Married: A Complete Guide to Planning Your Special Day. Andrea has also updated a variety of guidebooks, including Birnbaum's Official Guides to Disneyland and Walt Disney World, Thomas Cook's Travellers Hawaii, HotSpots Hawaii, Travellers New York City, and the New York City Pocket Guide.
Follow her on Twitter: @luxtravelmavens
Specialties
luxury travel writer with expertise in cruises, exotic travel, African safaris, and frequent flyer / hotel loyalty programs
guidebook author / updater
supervisor and team leader
managing editor
project management expert
acquisitions editor (adult non-fiction, books and kits)
developmental editor (adult non-fiction)
editorial strategist
social media manager
meticulous proofreader
content management system (CMS) expert
SEO writing
I'm an infopreneur with the sole goal of consistently exceeding my client's expectations when it comes to project management, writing, content marketing, social media/community management, editing, and the creation of information products.